Create a better future…
Leaving a gift to charity in your Will is a wonderful way to create a better future.
Once you've made allowance for family and friends, you may wish to leave part of your estate to a charity.  We would be delighted if you chose us. 
Legacy gifts are very important to Friends of the Elderly.  They make up almost half of the donations we receive.
Legacy gifts aren't always huge.  We would be grateful for any cash sum, or even just 1% of your estate.              
How to include a gift in your Will
Remembering Friends of the Elderly in your Will is easy.  Give your solicitor our details, as follows:
Friends of the Elderly
40-42 Ebury Street
London
SW1W 0LZ
Registered Charity No. 226064
Making minor changes to your existing Will 
We always advise you to seek professional advice when making or changing your Will.
How your legacy gift will make a difference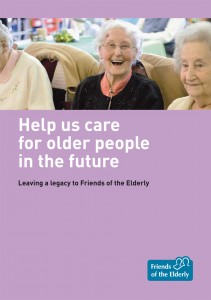 Download a copy of our legacy leaflet
Contact us
For a confidential discussion about leaving a legacy to Friends of the Elderly,contact our fundraising team on:
020 7730 8263