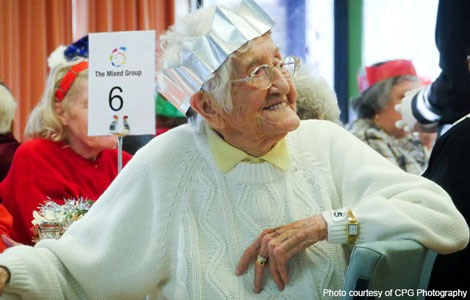 Friends of the Elderly is partnering with Community Christmas in 2016 to try make sure that no older person is alone on Christmas Day unless they want to be. With 280,000 people facing Christmas Day alone this year, we are encouraging people across the UK to organise activities and for older people to see what is going on in their local area.
Looking for an activity to go to?
If you are facing Christmas Day alone then there are 550 activities happening across the UK that are registered on the Community Christmas website here, and this is being regularly updated. With activities from full traditional Christmas lunches, to mince pies and a glass of sherry at a local pub, there's a range of activities that you can be a part of on Christmas Day.
Organising an activity or want to organise one?
Organising a Christmas activity is easy – it's not just about the turkey dinner, you could get people together to watch a Christmas film, share a glass of sherry and a mince pie, or enjoy a Christmas Day walk.
If you're a local business owner, think about how you can open your doors to older people in your community – pub landlords and restaurant owners could operate a 'book alone but don't dine alone' system, call centres could open their staff canteens for festive treats, and local taxi firms could operate a lift scheme to and from Christmas Day activities.
If you're already organising an activity on Christmas Day, or know of one in your area, then all you need to do is list it on the Community Christmas website for free!
Whatever you decide to do, you will help make sure more older people, who would otherwise be alone, have something to look forward to on Christmas Day.
For more information, or to list an event, visit the Community Christmas website.
 * Royal Voluntary Service, 2015