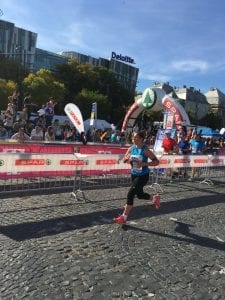 Sophie Wright, 24, a Senior Marketing Executive from Surrey ran the Budapest Marathon on Sunday 15 October raising a huge £835 for charity Friends of the Elderly. Running the 26 mile route in a fantastic 4hr31mins, Sophie is thrilled and proud to finally be able to say 'I've run a marathon.'
Sophie was inspired to raise money for Friends of the Elderly after seeing how loneliness has impacted one of her neighbours, she said: "My neighbour has felt isolated and lonely ever since her husband died a few years ago. A quick visit, dinner one night or simply popping over to help her with household tasks makes a big difference to how she feels. There are so many older people who don't have family, friends and neighbours as social lifelines and that's why I wanted to raise money for Friends of the Elderly who support older people who are alone."
Having previously run three half marathons, Sophie was persuaded to sign up for a full marathon by her boyfriend and their two friends – being naturally competitive and enjoying having something to work towards, she agreed. Last December, Sophie travelled to Budapest with her boyfriend, James, and thought it was such a beautiful and welcoming city. Having saying they wanted to go back to explore more, their friend Jonathon suggested they all run the Budapest marathon together this year. Sophie has been training hard alongside her busy job marketing International B2B exhibitions for a media company, which takes her across the world.
Sophie is first to admit she has never been a natural long distance runner. At school the teachers would ask who wanted to run the 1500m and she would never put her hand up and would hide at the back. Her running career started when her manager, Jo, at work wanted to run the Brighton half marathon before turning 40 and asked if Sophie would run with her. Having something to focus on is something that motivates Sophie, so she agreed and it was enjoyable to train with Jo for the run. Having played Lacrosse since the age of 12 and currently a member of East Grinstead Lacrosse Club, Sophie has kept fairly fit and this made training for half marathons much easier. After the Brighton half, Sophie went on to run the Regents Park and Reigate half marathons after getting the running bug.
Speaking following the marathon, Sophie said: "I am really chuffed with my time as I was aiming for around 4hr30. The best bit for me was running in a new and interesting city pointing landmarks out that I hadn't seen before. The worst bit was the heat – it was 25 degrees and there was no shade on the course. It's so hard to stay hydrated enough to cope with the run and heat. Running the Budapest marathon has definitely been one of the best things I have ever done. I don't know if I'll do another one but it's definitely not off the cards."
Gemma Leary, Group Fundraising Manager, congratulated Sophie: "On behalf of everyone at Friends of the Elderly I want to say a huge well done and thank you to Sophie firstly for this fantastic achievement and secondly raising such a brilliant total. The amount raised will really help us in our work to support older people who are living in isolation and who are lonely."
To sponsor Sophie, visit her sponsorship page here.