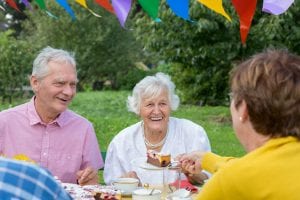 Date: Saturday 9 September 2017
Time: 1pm to 4pm
Venue: New Copford Place, London Road, Copford, Colchester, Essex, CO6 1YR
Staff, volunteers and residents at our New Copford Place care home will be welcoming guests to join them for a barbeque, live music, bric a brac stalls and fun and games including tombola, splat the rat, hook a duck, bowling for a pig and much more. Refreshments including cakes will be served in a marquee.
There will be opportunities to be shown around the home, plus stalls providing information about working or volunteering at the care home. Everyone is welcome.
Admission is free, but visitors may wish to make a donation. All proceeds from the fete will go towards paying for outings and entertainment for residents.
Stephen Trump, General Manager of New Copford Place said: "We are proud of what we do. Come and have fun, but also take this chance to find out about the care we offer older people, and about opportunities for volunteering or working with us."