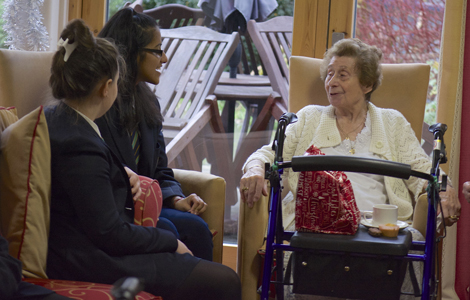 Pupils from Valentines High School in Ilford visited Darcy House sheltered housing in Dagenham on Wednesday (16 December) to share handmade Christmas cards and gifts with residents. A cheque for £250 was also presented to go towards social activities at the service as well as a box of biscuits, tins and other groceries.
Pupils from the school made and wrote 120 Christmas cards in total, which were also given to residents at nearby Fred Tibble Court and Harp House services, and chose Christmas presents to give.
The residents and the ten pupils who visited enjoyed Christmas carols, mince pies and the chance to talk about their favourite memories of Christmas time.
Extra care services for Darcy House are run by Triangle Community Services, a subsidiary of Friends of the Elderly. The residents will decide how the donations collected by Valentines High School's pupils will be used in the New Year.
Janet Hawthorn, Director of Care for Triangle Community Services, said: "We would like to say a massive thank you to the pupils and staff at Valentines High School. The time spent fundraising, making cards and picking and wrapping presents really means so much to the residents of our Extra Care services. These gestures will make such a big difference to our residents this Christmas."
Emily Danvers, Head of Kings House at Valentines High School, said: "We were so pleased visit Darcy House to celebrate the festive period - enabling the younger and older generations to meet. Our students have been hard at work buying presents, raising money and making cards to the residents in order to show them they are cared for this Christmas time. The students have been very excited to spend the afternoon at the home and are proud to play an active role in helping to combat loneliness and isolation of older people in this country."
If you'd like to discuss how your school or community group could support Friends of the Elderly, please send us an email or call us on 020 7730 8263.