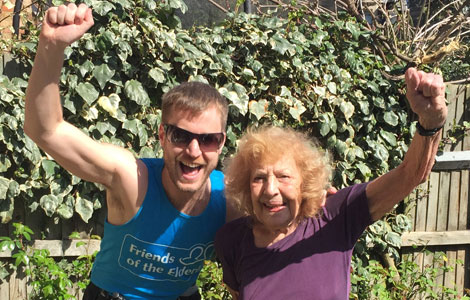 We want to say a huge thank you to each and every person who has supported Friends of the Elderly so far this year - whether you have made a donation, fundraised or dedicated your time to volunteering, please be proud to know you are changing the lives of older people in need.
Your kindness is truly valued – it is only with your help that we are bringing happiness to people like Liz (85). Liz is visited regularly at home by a volunteer and told us, "You don't quite expect, when you get to my age, to make new friends. I don't know what I'd do without her now – she is like a ray of light in my life."
Or Harry, who received a small grant to help with his central heating system, because he is struggling financially: "I cannot begin to explain how overwhelmed I am at the kindness and support that has been given to me. I can now look forward to winter and feel warm and healthy, instead of shivering and dreading this period."
As Christmas approaches – one of the most difficult times of the year for older people who are alone – we hope we can continue to rely on your kindness, during the festive period and into the future
Thank you!
Find out how your support can make a difference this Christmas.